Start of main content
Because it's important to 'pay it forward'
Molly Fraser is a software engineering apprentice at MBDA Missile Systems, where she's currently two and a half years into her four-year degree apprenticeship scheme.
Growing up she'd always had an interest in maths, computing and engineering, and loved getting "stuck in and being hands on" at school. She therefore decided to combine these passions and study software engineering at degree level. 
While working towards her A levels, Molly applied to several universities. She also applied for the MBDA degree apprenticeship, but as she puts it "had no intention of going down that career path".
This all changed with the arrival of Covid and a simple chat with her mum.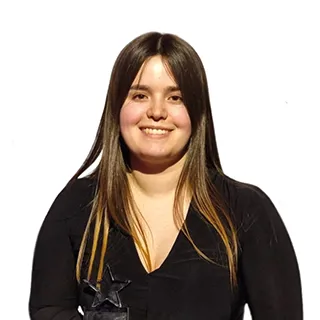 "She said I had the choice of paying £9,000 a year to sit in Zoom lectures, or to actually gain some experience at the same time as doing my degree without getting in debt," Molly explains. "That's what led to me choosing the apprenticeship and I don't regret that decision one little bit!"
Throughout the four years of her apprenticeship Molly will undertake a total of eight six-month placements across the business whilst studying towards her digital and technology solutions (software engineering pathway) BSc.
It was during her first induction week that she was introduced to the IET and its Engineering Horizons Bursary scheme.
"Unfortunately, I only had a few days left to apply though," she laughs. "But I put together the best possible application I could in the time I had left and three months later found out I'd been awarded the bursary.
"It was such a shock that they chose me, but once I calmed down, I thought what a great opportunity!"
The impact of the bursary
Molly's bursary consists of a payment of £1,000 every January for the duration of her apprenticeship, and mentoring support offered by Molly's donor organisation, the Engineers Trust.
This has helped her excel at university.
"Before, I was relying on just pen and paper, but thanks to the bursary I was able to buy a laptop and the specialist software I needed. This enabled me to take more detailed notes during lectures – even record them – and do programming on the go. I could also take that laptop to work and show my managers my work and ask for their feedback," she says.
"In my second year at uni I got firsts in all of my modules, which really surprised me. I think it was down to that laptop and the support I received from my mentors.
It's clear to see the impact this award has had on Molly and her early career. In her own words; "I've gone on to do so many things I never imagined doing".
Her boost in confidence, for example, has spurred her on to apply for other awards and become more active in the engineering community, attending talks and workshops as well as volunteering.
"Before this award I was very hesitant to put myself forward for special events, competitions etc. But my confidence has really grown thanks to the bursary and mentoring I've received. 
"For example, I entered and won Make UK's Apprentice Endeavor Award for the Midlands and East and went on to the national final. I didn't win this, but it was just rewarding to know that this is the second thing I've won in the short space of my apprenticeship journey so far," she says. "I honestly don't think I would have even applied beforehand."
Paying it forward
Molly also offered to help the Engineers Trust onboard their next group of bursary winners last year and now runs a peer-to-peer mentoring group alongside two other people for the bursary winners. Other volunteering roles she's taken up include being a STEM ambassador for Hertfordshire and being part of the East of England Young Apprentice Ambassador Network.
"I've also volunteered to help at future FIRST® LEGO® League events for the IET. Volunteering is great for exposure and learning something new. As I move forward with my career, I hope I can continue giving back in this way." 
The importance of giving back…
Supporting the IET's range of scholarships, awards and events is key to ensuring equal opportunities in engineering, Molly points out.
"Take women in engineering. I know a lot of companies have signed up to the 30 for 30 charter to get the percentage of women in engineering and defence up to 30% by 2030, but the IET's bursaries, scholarships and schemes also have a very important role in making the sector seem more appealing to young women. They might just entice them to give it a go," she says. 
"I definitely think they support a wider range of people entering the field. Not everyone can afford to buy their own laptop, not everyone (or their parents) can drive. This can stop people from attending events, from studying etc.
"It's really important for members of the engineering community, and the businesses themselves, to continue to donate and fund bursaries like mine and schemes like FIRST® LEGO® League.
"It's a great way for them to find talent, pay it forward and give young people more opportunities to enter the engineering world," she concludes.