Start of main content
Because it's never too late to follow your passion
Micky Bullock, 39, is currently studying towards an MEng in Electrical and Electronic Engineering at the University of Bristol.
This isn't his first degree – back in 2005 Micky graduated with a BSc Mathematics from the University of Nottingham and after a spell in the IT industry, he trained to become a teacher at the University of Leeds.
Micky taught maths in London secondary schools for more than a decade; in the later years, as the school's Head of Mathematics. But something was drawing him away.
"Across my teaching years I prepared hundreds of young people for mathematics-related degrees, and every time I sent someone off to have the time of their life, I felt more and more envious. Yes, I had been to university before, but I had, for a long time, regretted not taking engineering the first time round," he explains.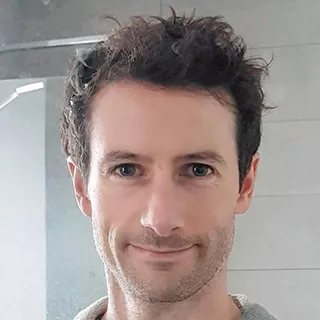 "I wanted to apply this wealth of mathematical skills I had developed to something new. I wanted to be an engineer."
Micky began looking into his options and found several exciting one-year master's courses in subjects such as space engineering, however, his bachelor's degree wasn't specific or recent enough for him join one of these. Instead, he had to decide whether to "start again" and take a full three- or four-year engineering degree.
"So, one day I quit my job, and I'm making it happen," he says proudly. "Engineering represents the ultimate pursuit in applied mathematics, I knew that's what I wanted to study, but - which type?"
In the end Micky chose electrical and electronic engineering, and a key driver behind this was the author Paul J. Nahin.
"His were inspiring books about mathematics, but written by an electrical engineer," he explains. "I also took a Coursera course in 2020 called Fundamentals of Audio and Music Engineering, in which I got to use ODEs and complex numbers in a whole load of new ways.
"I was particularly looking forward to the Fourier analysis units in year two. I recently rediscovered this and taught myself how to program a computer to draw pictures with Fourier epicycles."
Managing the costs of a career change
As Micky had taken student loans for his first degree and PGCE qualification, he wasn't eligible for student finance this time around, which meant this second degree would cost him £37,000.
Taking on these "eye watering tuition fees" was a risk, as he would have to cover them from his savings and earnings from his work as a freelance tutor. He also started looking at financial support, which is how he came across the IET Engineering Horizons Bursary – now the IET Future Talent Awards. These are made possible thanks to the support of individuals and companies that donate to the IET Futures Fund. 
Micky applied for and was awarded a bursary, which in his case was supported by Siemens.  This, in his own words: "wiped more than 10% off my university bill, leaving me with vital funds to stay healthy and happy as a student".
"The IET Futures Fund provides a targeted way to invest in people, so that innovation will continue," Micky points out. "Anyone new to the engineering industry is the future of the industry - and that's not just young people!
"The bursary has been of immense help, it's allowed me to equip myself with essential electronic components to tinker with and purchase a new battery for my laptop, which has given it a new lease of life.
"It's also allowed me to keep my bicycle serviced and in good nick so I can get to university every day and nip around town. I am so grateful to the IET and Siemens – thank you!"
As a donor to the IET Futures Fund, Siemens chooses to be actively involved in the development of its scholars, and during his first year Micky was invited to attend Siemens' two-day conference Transform2022, which was all about digital transformation.
Here, panels and keynote speakers discussed four national transformation topics; business resilience and transformation, what's next in tech and transforming infrastructure, while roundtables and tech talks covered everything from decarbonisation, cybersecurity and automation to rethinking skills and the path to net zero.
"This was excellent, and gave me a superb vision of the breadth and details of what Siemens does. This year I've also been given a tour round the Siemens Congleton Factory, where motor drives are manufactured, which gave me further industrial insight."
Inspiring others in STEM
Micky is excelling in his engineering education – he achieved 91% in his first year and 86% in his second and he wants to continue sharing his passion for the subject, particularly through ambassadorial activities.
He believes that engineers visiting schools, and in particular engaging pupils in inspiring activities, is a very effective way to shine a spotlight on engineering and something he would like to get more involved in.
During his first year, he took the time to spend a day at one of his past schools, University College School (UCS) in Hampstead, talking to pupils about STEM degrees, the opportunities they create and how engineering is an immensely rewarding career to pursue.
"It was fun and well received by the students and I'd like to return and do this every year if the opportunity arises," he says.
He also has a world of opportunity ahead of him and is yet to decide on his next steps post-master's degree.
"I want to be an engineer for sure, but whether this is in transport, defence, space, product design or something more obscure I don't know yet," he says. "Right now, my options are wide open." 
A message from Siemens
Paul Birt – Head of People and Organisation Siemens Smart Infrastructure said
"Siemens enjoys a close relationship with the IET and has supported first the Engineering Horizons Bursary and subsequently the Future Funds initiative.
We were delighted to read of the positive impact our support has been to one of our recipients, Micky Bullock and wish him every success for the future."