Start of main content
Because your donations are helping children believe that anything is possible
Her son Kostiantyn was an avid participant, returning for eight consecutive years (pandemic aside), before the war in Ukraine turned their family's life upside down and caused them to seek asylum in Cahersiveen, Ireland.
Thanks to donations to the IET Futures Fund, Olha was able to help children experience FIRST® LEGO® League for the first time and to believe anything is possible and if they can dream it, they can do it!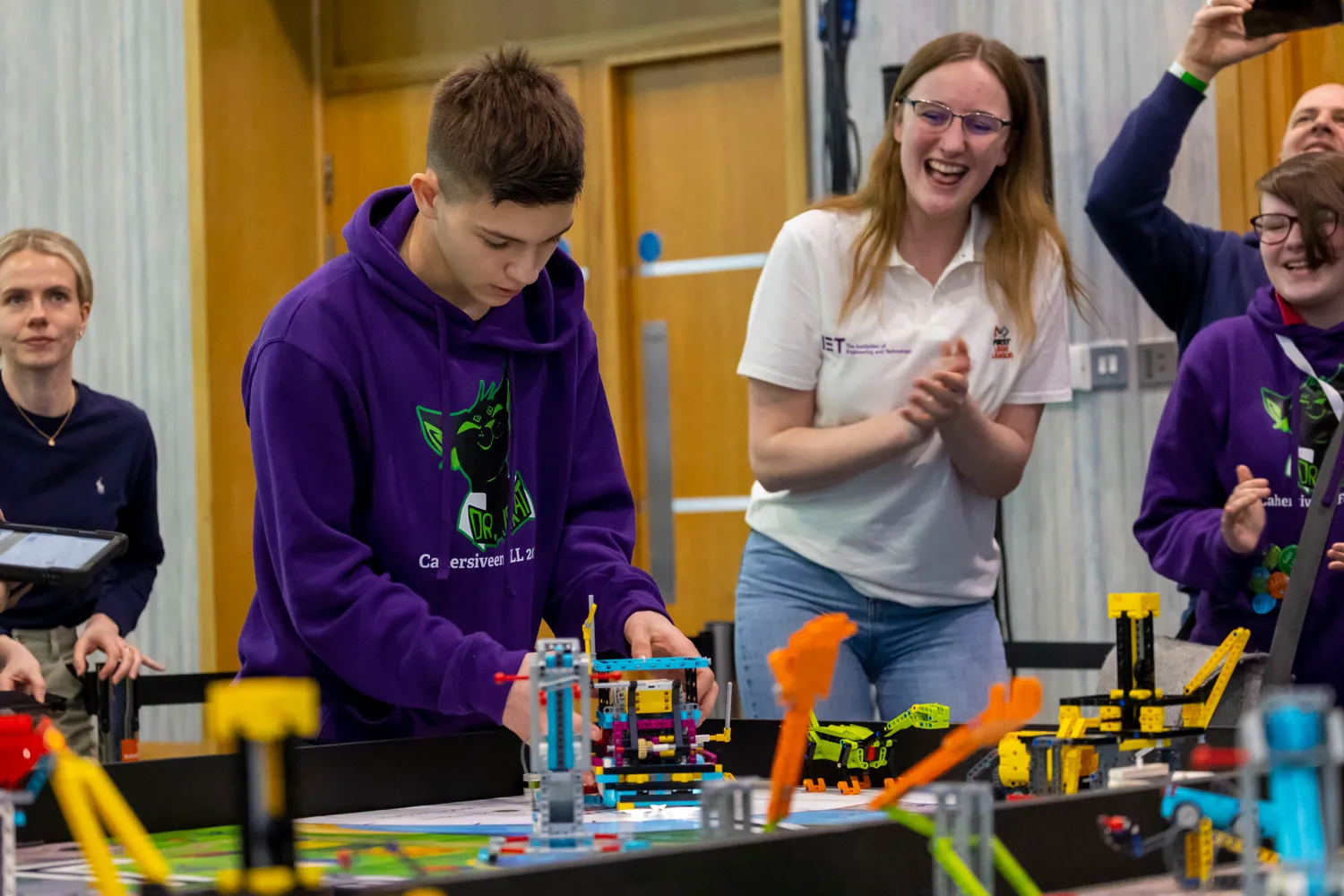 "Kostiantyn participated for the first time in FIRST® LEGO® League in the second year of primary school due to his love of robotics and coding," Olha says.  "That year I came along to watch as a parent, but the following year his team struggled to find a mentor, so I volunteered."
As a way to offer Kostiantyn some kind of comfort and continuity, in addition to providing an opportunity for him to make new friends who share his interests, Olha looked to set up a new team to participate in the Ireland regional stage of the competition.
"When I arrived in Ireland, I didn't have a job there, and so I thought this would give me something to do and help Kostiantyn make new friends," Olha says. "I approached a local youth club, who agreed to let me borrow their space for the team to work on their project. Next, we advertised that we were looking for members at Kostiantyn's school, Colaiste na Sceilge, and around the local community."
This group of six, made up of children hailing from Ukraine, Lithuania and Ireland, progressed from their regional tournament to get to the last round of the Robot Games knockouts at the All-Ireland FIRST® LEGO® League National Final and came second in the Robot Game.
Their Innovation Project saw them design a rocking chair to generate energy, not bad for a team that had only worked together for five months, where the majority of members had little or no hands-on experience in engineering!
"The children came to us with no experience of engineering and have learnt so much about electronics, robotics and programming through this competition," Olha says.
"My son wants to join an engineering company, for example, while another boy, who'd planned to become a psychologist, has realised he can build and program and feels other options within engineering have opened up to him."
The competition made such a difference to all the team members, with several telling Olha that it was the most exciting experience of their lives so far.
"One girl, very much a wallflower when we met, really grew from the experience, overcoming her fear of standing up in front of people and presenting. She's now much more confident, thanks to her participation."
"Similarly, another boy was cripplingly shy when he joined, but has come out of himself much more, even standing up to present his work at the final. His mum was delighted with what he's overcome – she says it's like he's a totally different person now!"
The most important part of the experience, however, has been the friendships that have grown out of the team's time together.
"There's a real camaraderie; they've become the best of friends," Olha enthuses.
Teaching children that engineering is for everyone
Donating to the IET Futures Fund supports programmes like the FIRST® LEGO® League, which is "helping to create a better future," says Olha. "By donating to the IET Futures Fund you're influencing the future of today's students. STEM events like FIRST® LEGO® League help them to see that anything is possible – if they can dream it, they can do it.
"I asked my son what he'd like to say about FIRST® LEGO® League, and he said he can't imagine his life without this competition. He says he's confident in his abilities thanks to taking part all these years and believes that he can go on and do anything after school."